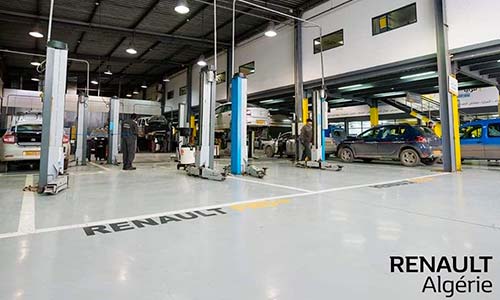 Issues and challenges
As part of the investment project of the famous French engine manufacturer RENAULT, it was to acquire old workshops of the former representative of FIAT in Algeria, to be completely redeveloped into after-sales workshops, redesigned in shape and in background to meet current requirements in terms of work safety and ergonomics as well as to comply with RENAULT specifications in terms of service quality. Thus, in association with a renowned design office we took charge of the following lots:
Technical solutions implemented
Lot detection and fire safety

IT and telephone network bundle with fiber optic cascade

Normal and emergency electricity package on the whole site with central UPS 1X20 KVA inverters and 560 KVA generator set, electrical cabinets and boxes.

Lot lighting and interior and exterior chandeliers.
All of this work was carried out without worrying the operator who has never left the site, a site which has remained in operation non-stop.